Enhancing the performance of natural surfaces.
In today's ultra competitive environment the expectations of natural surfaces are pushed to their limits as stakeholders seek to maximise usage and performance. The evolution of soil technology is continually evolving. We have worked over 15 years in refining our Stabilisation products and methods to address specific needs in the sports and landscape industries. Our products have been used on the world stage, performing to elite standards and specifications.
StaLok is a fibrillated polypropylene fibre that
stabilises sand/soil by acting as a mass of indestructible roots to provide a shield like structure to the root zone. Natural grass roots grow together with StaLok Fiber within the profile, creating a network that spreads surface loads across a broader area by triangulation - spreading a point load across a larger area in the root zone. The end result is more stabler soil profile with greater load bearing capacity. StaLok fibre can be amended insitu into sands using our specialist fibre machinery or contract grown into ready to play turf rolls.
What does it do.
Increases sand stability & load bearing
Improved turf traction & strength
Increases porosities of soil
Reduces divoting
No effect to drainage rates
No effect to cultural practices
Where is it used
Sportsfields
Racecourses
Turf carparks / vehicle lanes
High traffic turf areas
Projects StaLok fibres has been used.
Fremantle F.C Elite Training Oval, WA
Townsville Racecourse, QLD
Pakenham Racecourse, VIC
Caulfield R.C Members Turf Carpark
Startrack Stadium (Manuka Oval), ACT
AAMI Park, Melbourne, VIC
Caltex Stadium, Dubbo City Council, NSW
Soccer World Cup Venues, South Africa
Thephutsadin Stadium, Thailand
Stabilizer increases the strength and stability of natural aggregate pathways by binding soil particles without compromising raw appearance and texture. Stabilized surfaces remain firm, yet permeable, and able to withstand more traffic. Considered a type of permeable paving, Stabilizer can be integrated into stormwater management landscapes whilst still remaining accessible. Stabilizer can also be used in sporting applications with its binding nature & moisture control properties used for stability in baseball clay infields, equestrian and horse sand tracks.
What does it do.
Binds soil & aggregate particles
Absorbs 12 x its weight in water
Maintains consistency by retaining moisture when wet & releasing back into the soil in dry conditions
Where is it used
Natural pathways / granitic surfaces
Running Tracks
Landscapes
Erosion control
Baseball / Softball infields
Equestrian / Sand horse tracks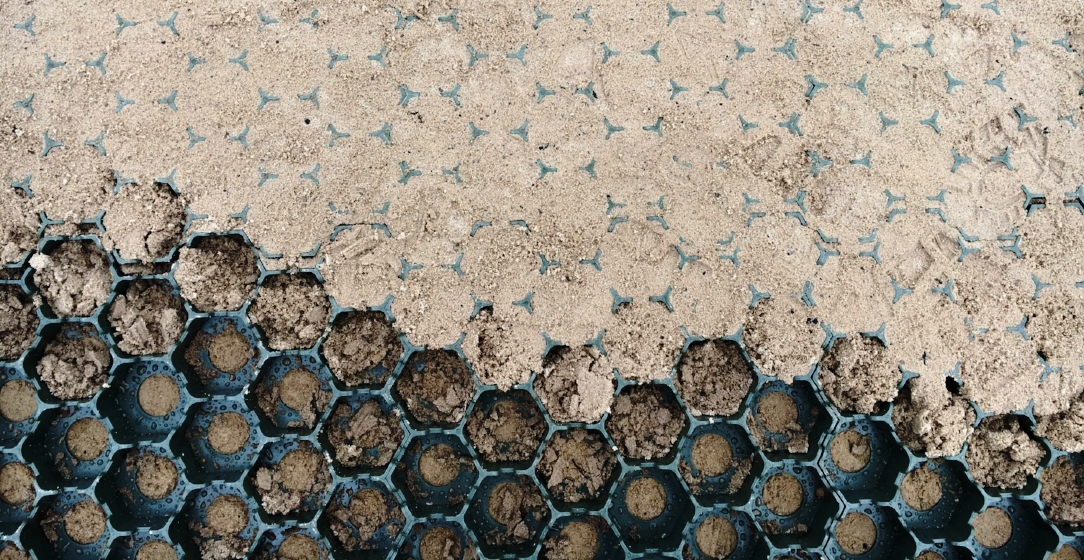 Evergreen Turf is a nominated installer of Grass-Cel, the original porous turf paving block.
Grass-Cel® is made up of precisely arranged hexagonal cell network that allows the blocks to be connected together, using tabs and slots, to form a mat of just about any size. The walls of the cells support traffic, preventing soil compaction and minimising grass wear. The result is an aesthetically pleasing and environmentally sensitive alternative to usual driveway and parking area treatments
What does it do.
Increases Load Bearing & Stability
Individual blocks tested to support 26T
Eco-certified product
Where is it used
Driveways / Access roads
Car Parks
Golf Cart / Buggy Tracks
Projects Grass-Cel® has been used.
Caulfield Racecourse Members Carpark